Shipping Notice Sept 25-Oct 2
Orders placed between these dates will not ship out until after October 2nd. Thank you!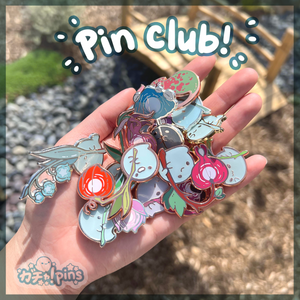 Pin Club Monthly Subscription
Sign up for 2023's Season's Spirits Pin club to get all 12 pins! Only a limited number of slots that automatically roll over each month.
Sign up now!
Ghoul School Volume 2: Arcade!
STOCK COMING SOON! Hoodies, deskmats, plushies, etc!
Fulfillment is currently in progress and the remaining items will go up on this site afterwards! Stay tuned on socials and subscribe to my newsletter to be alterted!
CONTACT US!
If you have any questions or just want to reach out, send me a message via the FAQ page, or directly on Instagram!
SHIPS GLOBALLY!
We are happy to offer international shipping from the US, complete with tracking information!
SUSTAINABLE PACKAGING!
We do our best to make sure our goods are sustainably sourced and/or recyclable. Please recycle the mailers!